* * * SPECIAL OFFER * * *

Find out about the latest news & promotions!
» Fun T-shirts Blog


Browse our shops at Zazzle for more great products!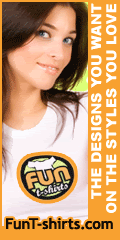 Wedding Party t-shirts | Bridal Party t-shirts
Wedding party t-shirts, matching wedding party t-shirts & bridal party t-shirts, wedding party gifts, matching t-shirts for bride & bridesmaids, groom & groomsmen, flower girl, & ring bearer. Matching wedding t-shirt designs for mother-of-the-bride, father-of-the-bride, mother-of-the-groom, & father-of-the-groom, matching tees. Also great attendant gifts to match the wedding party t-shirt designs!



Click on your favorite design to see it featured on our large variety of products!

Black Text Wedding
Black Text Wedding T-shirts, hoodies, tank tops, tote bags, and much more for the maid of honor, matron of honor, bridesmaids, best man, flower girl, and more!


Pastel Flowers Wedding
Bride T-Shirts, hoodies, tank tops, and more for the bride, maid of honor, bridesmaid, and other bridal party members, all with pretty pastel flowers!


Gray Text With Hearts
Bridal party T-shirts with grey text and red hearts for the bride, bridesmaids, maid and matron of honor,mother of bride and groom and more!


Hearts and Bow Ties Wedding Party
Bride, Groom, Maid of Honor, Matron of Honor, Bridesmaid, Best Man, Groomsman, Flower Girl, and Ring Bearer T-shirts, tote bags, and more with flowers, hearts, top hats, rings, and bow ties!


Color Shades Wedding Party
Color Shades wedding party T-shirts, tote bags, buttons, and much more for every member of the wedding party with bright, bold colors!
powered by CafePress & cpshop