* * * SPECIAL OFFER * * *

Find out about the latest news & promotions!
» Fun T-shirts Blog


Browse our shops at Zazzle for more great products!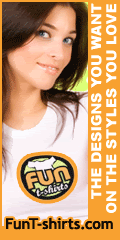 Engaged t-shirts | Getting Married t-shirts
Celebrate your engagement with engaged t-shirts, buttons, hats & more! Get The Future Mrs t-shirts, Soon to be Mrs t-shirts, and I Got the Ring tees to share the news that you're getting married!

Click on your favorite design to see it featured on our large variety of products!

Engaged
He finally popped the question now it's time to tell the world that you're engaged!
powered by CafePress & cpshop