* * * SPECIAL OFFER * * *

Find out about the latest news & promotions!
» Fun T-shirts Blog


Browse our shops at Zazzle for more great products!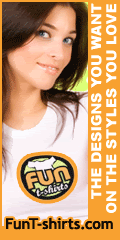 Bride t-shirts | Team Bride t-shirts
Bride t-shirts, Team Bride t-shirts, Spring bride t-shirts, Summer bride tees, Autumn bride t-shirts, Winter bride t-shirts & sweatshirts, Bridezilla t-shirts & gifts, & funny bride tees. Celebrate the events surrounding the wedding, including the Bridal Shower, bachelorette party, and rehearsal, with Bride shirts, hats, buttons & fun gifts for the Bride!

For more great Bride designs, check out our matching Wedding Party T-shirts!



Click on your favorite design to see it featured on our large variety of products!

Bride
The classic bride apparel. Simply stated and always elegant.


Bride Gone Wild
The original bride gone wild apparel! Gone a little wild planning your wedding? Many brides do! Join the ranks of brides gone wild!


Going Bridal
Have you heard of going postal?
Now there's going Bridal!


Wedding-Bride (I Do)
"I do" Bride T-Shirts & Gifts for Bachelorette parties, bridal showers, rehearsal, and the honeymoon!


Wedding-Bride
"Bride" stick figure T-shirts, caps and gifts for the bride!
powered by CafePress & cpshop