* * * SPECIAL OFFER * * *

Find out about the latest news & promotions!
» Fun T-shirts Blog


Browse our shops at Zazzle for more great products!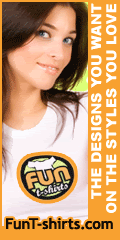 Bachelorette Party t-shirts | Bachelorette t-shirts
Bachelorette party t-shirts, bachelorette t-shirts, tees, tank tops, hats, buttons, & party invitations for girls night out! Funny bachelorette quotes on t-shirts including "buy me a shot, I'm tying the knot", "what happens at the bachelorette party stays at the bachelorette party", "last fling before the ring", "final fling" & "bachelorette support crew"! It's the bride's last night out, so get some fun bachelorette t-shirts to help celebrate!



Click on your favorite design to see it featured on our large variety of products!

Girls Getaway 2020 T-shirts and Gifts
A pair of tropical flower hibiscus flip flops and pretty hot pink and orange text that reads "Girls Getaway Bachelorette Bash 2020" on T-shirts and more.


Tropical Girls Night Out Tshirts and Gifts
Tropical drink theme Girls Night Out bachelorette bash T-shirts, tote bags, buttons, hoodies, and more for the bride to be, bridesmaids, maid of honor, and family members!


Bachelorette Tropical Weekend
Bachelorette Tropical Weekend T-shirts, hoodies, tote bags, and other items, perfect if the bachelorette party is a weekend getaway at the beach!
powered by CafePress & cpshop