* * * SPECIAL OFFER * * *

Find out about the latest news & promotions!
» Fun T-shirts Blog


Browse our shops at Zazzle for more great products!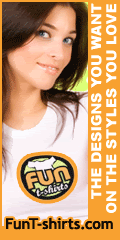 Skateboarding t-shirts | Skateboard tees
Great skateboarding designs for high flying skateboarders! Grab a cool skateboarding t-shirt, and awesome gifts for skate fans!



Click on a design to see it featured on our large variety shirts, t-shirts, hats, and great gifts!

SkateBoarding Lifestyle T-Shirts and Gifts
Skateboarder with knee pads and helmet flipping his skateboard high above a fire hydrant! Skateboarding its a Lifestyle attitude for skaters! Colorful Skateboarding t-shirts and skateboarding gifts!


I Live To Skate T-shirts and Gifts
Skater doing a trick in the design! Grunge style skateboard t-shirts and skateboard gifts with banners, ribbons, wings and shield background! Original skateboarding t-shirts and skateboarding gifts!


High Rails Skate T-shirts and Gifts
High Rails inline skater sign for extreme skate fans who love pulling off tricks and stunts! Silhouette skater going down a flight of stairs! Skate t-shirts and gifts!


EVOLUTION Skateboarding T-shirts and Gifts
For thousands of years mankind has been evolving, now evolution sports shows the progress of man from chimp, Neanderthal, human to your favorite sport, skateboarding! Skateboard sports gear!


Gravity? Inline Skater T-shirts and Gifts
Gravity? Never heard of it. Inline skater pulling off a high flying stunt. For inline skate fans who love the feeling of zero gravity! Inline skating t-shirts and inline skating gifts!


Extreme SK8TER T-shirts and Gifts
Concrete ripping extreme skateboarder turning trick after trick, flip after flip! Ride in style with this Extreme Sk8ter design! Skate Boarding t-shirts and skate boarding gifts!
powered by CafePress & cpshop