* * * SPECIAL OFFER * * *

Find out about the latest news & promotions!
» Fun T-shirts Blog


Browse our shops at Zazzle for more great products!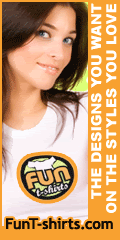 Click on a design to see it featured on our large variety shirts, t-shirts, hats, and great gifts!

The Music In Me
I've got the music in me. Music lovers take note. For those who simply must have music in their lives. Get yours today !


In a Band
Funny t-shirt or sticker for any musician. Hilarious gift for any rock star wannabe who picks up chicks despite having no money, car or job. Rock and roll clothes, tees, hats and more. Funny stuff!


Got Music?
Got music? T-shirts, hats, buttons and stickers perfect for music lovers, music teachers and music therapy. Cool musical themed shirts, clothes, gifts and rock and roll gear for music fans. Got music?


Rock On
Rock on t-shirts, hats, mugs and gifts for rock music lovers. Classic rock, heavy metal or indie rock shirts, buttons, stickers and gifts for rock-n-roll kids and adults. Cool Rock Star gear and tees.


It's Only Rock and Roll
It's only rock and roll but I like it. Yes I do! Classic rock lyrics for the classic rock n roll fan. Buy one for the music lover. A classic design for the true rock music fan. Rock will never die!
powered by CafePress & cpshop