* * * SPECIAL OFFER * * *

Find out about the latest news & promotions!
» Fun T-shirts Blog


Browse our shops at Zazzle for more great products!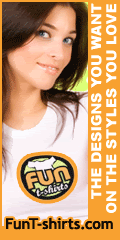 Dance t-shirts | Dance gifts | Dance Recital gifts
Dance t-shirts & Dance gifts, ballet & ballerina t-shirts & gifts, tap dancing t-shirts, hip hop t-shirts, break dancingt-shirts, iDance t-shirts, ballroom dancing, and basic dance t-shirts, camisoles, bags, hats, magnets, stickers, bumper stickers & great gifts for dancers! Also custom designed dance t-shirts for dance classes & dance teams. Great dance recital gifts, and gifts for Dance teachers.



Click on a design to see it featured on our large variety shirts, t-shirts, hats, and great gifts!

3 Ballerina Girls
Original Character Illustrations of cute little Ballerina Girls in tutus. Characters come in Blonde or Brunette hair.


Ballet Dancer
Ballet pointe shoes on a stick figure, can it get any cuter? T-shirts and gifts for ballet dancers!


dance
To dance is to be free. A great design that express' your love for the art. Jump up and live life right.
powered by CafePress & cpshop