* * * SPECIAL OFFER * * *

Find out about the latest news & promotions!
» Fun T-shirts Blog


Browse our shops at Zazzle for more great products!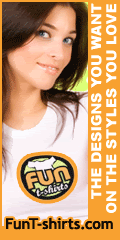 Dance t-shirts | Dance gifts | Dance Recital gifts
Dance t-shirts & Dance gifts, ballet & ballerina t-shirts & gifts, tap dancing t-shirts, hip hop t-shirts, break dancingt-shirts, iDance t-shirts, ballroom dancing, and basic dance t-shirts, camisoles, bags, hats, magnets, stickers, bumper stickers & great gifts for dancers! Also custom designed dance t-shirts for dance classes & dance teams. Great dance recital gifts, and gifts for Dance teachers.



Click on a design to see it featured on our large variety shirts, t-shirts, hats, and great gifts!

Dance Highlighted
Shadowed Lineart Graphic Design of a ballerina on t-shirts, hoodies, room decor, mugs, hats and more. Beautiful Dance Design for the Ballerina.


Gotta Dance
Those with Dance in their hearts understand this "Gotta Dance" design. This design is perfect for any type of dancer shown on t-shirts, sweatshirts, stationary and more.


Eat. Sleep. Dance
Eat Sleep and Dance clothes, shirts, stickers and gifts. Cool gear for ballet and tap dancers. Funny apparel for any dancer. Gear up for the recital with original dancing clothing, tees, sweatshirts!


Dance
Contemporary Dance Graphic shown on bags, hats, mouse pads, t-shirts, hoodies and more.


Get Your Groove On
"Whatever your style make it happen for you" Get your Groove ON! Dance! Dance t-shirts, hoodies, dorm decor and more.


Dance
Dance Quote with pointe shoes is a hit with the Dancers in your life. These t-shirts, sweatshirts, hoodies, posters and more will make a great gift.


Dance Quote Store
This store is full of t-shirt and gift designs with quotes for Dancers! Many many designs inside this store.


Dance Dance Dance
"Dance Dance Dance" This dance t-shirt and gift design is for the Dance that eats, sleeps and breathes dance.
powered by CafePress & cpshop