* * * SPECIAL OFFER * * *

Find out about the latest news & promotions!
» Fun T-shirts Blog


Browse our shops at Zazzle for more great products!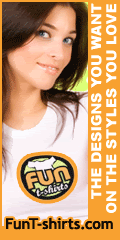 Bowling t-shirts | Bowling gifts | Funny bowling shirts
Bowling t-shirts & gifts for bowlers and bowling teams. Funny bowling humor and bowling ball graphics, including "this is how I roll", "grab your balls, we're going bowling", & more great bowling sayings to get you ready for league night on funny t-shirts, hats, mugs, magnets & more.



Click on a design to see it featured on our large variety shirts, t-shirts, hats, and great gifts!
powered by CafePress & cpshop