* * * SPECIAL OFFER * * *

Find out about the latest news & promotions!
» Fun T-shirts Blog


Browse our shops at Zazzle for more great products!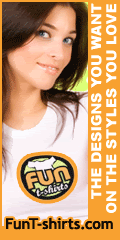 Basketball t-shirts | Basketball gifts
Basketball t-shirts and gifts for basketball players & basketball fans. Great basketball sayings & graphics, including Slam Dunk t-shirts, Hoops t-shirts, Take it to the Net, In the Zone t-shirts, Basketball burster t-shirts, & more great Basketball t-shirts & gifts!



Click on a design to see it featured on our large variety shirts, t-shirts, hats, and great gifts!

Slam Dunk Orange Logo
This cool Slam Dunk logo features bold orange lettering outlined in green. Show your love of the game with this design


Basketball Reach for the Sky
Inspirational basketball design of a basketball player jumping up to a basketball hoop. "Reach for the sky or don't even try" positive message! Great gift for basketball fans!
powered by CafePress & cpshop