* * * SPECIAL OFFER * * *

Find out about the latest news & promotions!
» Fun T-shirts Blog


Browse our shops at Zazzle for more great products!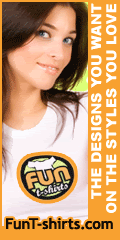 Baseball t-shirts | Softball t-shirts
Baseball shirts, baseball t-shirts, softball tees, baseball caps, hats, mugs, magnets, baseball bumper stickers, and great gifts for baseball players, softball players, and baseball lovers. Popular designs including "dead serious about baseball", "diamonds are a girl's best friend", and Boston baseball shirts. Get matching baseball t-shirts or softball t-shirts for the team, cool t-shirts & gifts for your baseball coach or softball coach, or father & son matching baseball shirts!



Click on a design to see it featured on our large variety shirts, t-shirts, hats, and great gifts!

Baseball - You're Out!
One. . .two. . .three strikes. . .you won't be out with products featuring the "You're Out!" vintage baseball design.


Baseball
Baseball playing stick figure T-shirts & gifts for baseball players!
powered by CafePress & cpshop