* * * SPECIAL OFFER * * *

Find out about the latest news & promotions!
» Fun T-shirts Blog


Browse our shops at Zazzle for more great products!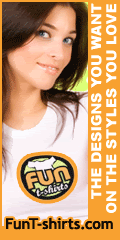 Twilight T-shirts | Twilight Merchandise


Official Twilight t-Shirts, Twilight merchandise, New Moon t-shirts, Eclipse t-shirts, Edward Cullen t-shirts, Jacob Black shirts, Bella Swan t-shirts, Twilight Valentine tees, Vampire t-shirts, & great gifts for Twilight fans, and vampire lovers! Get Twilight t-shirts, New Moon tees, Eclipse merchandise, Twilight sweatshirts, kids tees, hats, bags, ornaments, & more! Teens will love a cool Twilight gift set with matching Twilight toss pillows, journals, keepsake boxes & matching tees!

Official New Moon and Eclipse merchandise is now available!
Click image below to buy any of these featured products:



Click on any design below to see it featured on our large variety of products!
powered by CafePress & cpshop