* * * SPECIAL OFFER * * *

Find out about the latest news & promotions!
» Fun T-shirts Blog


Browse our shops at Zazzle for more great products!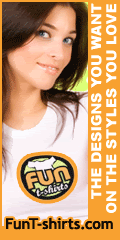 Pop Culture T-shirts | TV and Movie T-shirts
Pop culture t-shirts, inspired by TV and movies, current events, and popular themes. Official Twilight t-shirts, Eclipse t-shirts, Edward Cullen t-shirts & great gifts for Twilight fans. TV and Movie t-shirts, with your favorite popular shows. Cult classics t-shirts, including your favorite old movies, sitcoms & more! Cool retro t-shirts, including "that's how I roll" t-shirts, "pale is the new tan" tees, "I'm kind of a big deal" t-shirts, beeotch tees, and cool retro designs!


powered by CafePress & cpshop