* * * SPECIAL OFFER * * *

Find out about the latest news & promotions!
» Fun T-shirts Blog


Browse our shops at Zazzle for more great products!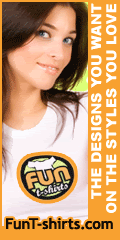 Inspirational T-shirts | Inspirational Gifts
Inspirational quotes t-shirts, inspirational sayings t-shirts & gifts. Peace t-shirts & Peace gifts, Ghandi t-shirts & Ghandi quote gifts, Chinese proverb t-shirts, Positive message t-shirts, Be the change you wish to see in the world, Live love laugh, positive quotes for girls & women, and inspirational t-shirts, sweatshirts, mugs, magnets, greeting cards, inspirational bumper stickers, keepsake boxes, and more thoughtful & positive t-shirts & gifts.



Click on your favorite design to see it featured on our large variety of products!

Greatness Of A Nation
These products quote Mahatma Gandhi, "The greatness of a nation and its moral progress can be judged by the way its animals are treated."


Live to Love
A gentle reminder of why we are here... These items read, "Live to love. Love to live."


Infinite Beauty
Posters, stickers and more featuring John Ruskin quote, "Nature is painting for us, day after day, pictures of infinite beauty."


Live
Education quote by Mahatma Gandhi, "Live as if you were to die tomorrow. Learn as if you were to live forever."


A Good Thing
Bumper stickers, framed print, hat and other gifts read, "Too much of a good thing is wonderful."


I can because I think I can
"I can because I think I can" t-shirts & gifts, inspirational design with a woman in a wheelchair on a mountaintop.
powered by CafePress & cpshop