* * * SPECIAL OFFER * * *

Find out about the latest news & promotions!
» Fun T-shirts Blog


Browse our shops at Zazzle for more great products!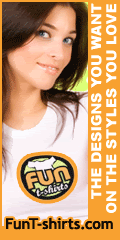 Inspirational T-shirts | Inspirational Gifts
Inspirational quotes t-shirts, inspirational sayings t-shirts & gifts. Peace t-shirts & Peace gifts, Ghandi t-shirts & Ghandi quote gifts, Chinese proverb t-shirts, Positive message t-shirts, Be the change you wish to see in the world, Live love laugh, positive quotes for girls & women, and inspirational t-shirts, sweatshirts, mugs, magnets, greeting cards, inspirational bumper stickers, keepsake boxes, and more thoughtful & positive t-shirts & gifts.



Click on your favorite design to see it featured on our large variety of products!
powered by CafePress & cpshop