* * * SPECIAL OFFER * * *

Find out about the latest news & promotions!
» Fun T-shirts Blog


Browse our shops at Zazzle for more great products!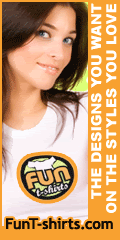 Geek T-shirts | Geek Humor Tees
Geek t-shirts, geek humor t-shirts, geek-in-training onesies & t-shirts, girl geek tees, future geek, math geek, science geek, super geek, band geek t-shirts, gamers, dork t-shirts, nerd t-shirts & gifts, periodic table of elements, QT Pi t-shirts & onesies, Pumpkin Pi, everything geek on tees, sweatshirts, onesies, mugs, magnets, buttons, bumper stickers, and great gifts for geeks!



Click on your favorite design to see it featured on our large variety of products!

Total Geek


Total Geek gear, geek t shirts, geek mugs, everything the total geek could want in a great looking design with geek glasses!


I Won't Fix Your Computer!


If you're a computer geek and everywhere you go someone has a PC related question, get this NO, I will not fix your computer design!


Cool Colors Total Geek!


Total geek gear in cool colors for the total geek in you or someone you know. Total geek Tshirts, mugs, mousepads, other geek stuff!


Geek Magnet


For the geek magnet, the girl who seems to attract geeks no matter where she turns, we have Geek Magnet Tshirts and other stuff for you!


Warning-Geek Zone!


Yellow warning Geek Zone merchandise with Geeky looking Geek shirts, geek mugs, mousepads, journals and more!


Geeks Do Everything Better!


A simple black, green, and purple text message reads "Geeks do everything better"! Geek t shirts and other geek gear!
powered by CafePress & cpshop