* * * SPECIAL OFFER * * *

Find out about the latest news & promotions!
» Fun T-shirts Blog


Browse our shops at Zazzle for more great products!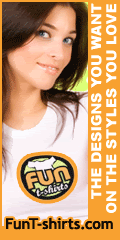 Funny T-shirts | Funny Quotes T-shirts
Funny quote t-shirts, funny saying t-shirts & gifts, sarcasm humor t-shirts, and funny proverbs t-shirts. Share your sense of humor with our funny shirts, sweatshirts, hats, magnets, mugs, funny bumper stickers, humorous greeting cards, and unique gifts to make someone laugh!



Click on your favorite design to see it featured on our large variety of products!

Grumpy Night Person
There's nothing more horrifying to a night person than having that alarm go off in the morning. It's not natural. Text says: "Mornings are evolution in action. Only the grumpy survive."


Need More Shoes
I'm not high maintenance, I just need more shoes t-shirts, hats and buttons. Funny show lover clothing, apparel and gifts for the woman who can't get enough footwear. Funny shoe addict tees.


All I Want
Why be shy about what you want? First, the creature comforts, then complete power. It's only fair. Right? Text says: "All I want is a warm bed, a kind word, and unlimited power."


Light Travels Faster
Warning: people within view are often dumber than they appear. Text says: "Light travels faster than sound. That's why some people appear bright until you hear them speak."


Money and Happiness
Have you ever noticed the people who say money can't buy happiness already have some? As the shirt says: "All I ask is the chance to prove that money can't make me happy."
powered by CafePress & cpshop