* * * SPECIAL OFFER * * *

Find out about the latest news & promotions!
» Fun T-shirts Blog


Browse our shops at Zazzle for more great products!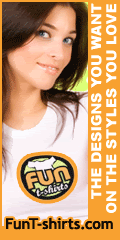 Food Humor T-shirts | Funny Food T-shirts
Food humor t-shirts, funny food sayings t-shirts, I love chocolate t-shirts for true chocolate lovers & chocoholics, chocolate lover gifts, I love ketchup t-shirts for those who put ketchup on their ketchup, and I like cheese t-shirts & gifts for cheese lovers who put cheese on everything! Wine t-shirts and wine lover gifts, mustard, mayonnaise, pancakes & more food humor tees, mugs, magnets, greeting cards, stickers & fun food gifts!



Click on your favorite design to see it featured on our large variety of products!

A Balanced Diet Is A Cookie In Each Hand
Let 'em know exactly how you feel: A balanced diet is a cookie in each hand! This humorous and beautiful design says it all. Great as gifts for the food lovers in your life!
powered by CafePress & cpshop