* * * SPECIAL OFFER * * *

Find out about the latest news & promotions!
» Fun T-shirts Blog


Browse our shops at Zazzle for more great products!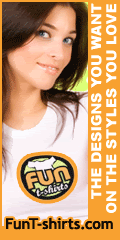 Teacher t-shirts | School t-shirts
Teacher t-shirts, gifts for teachers, school t-shirts & gifts, school is cool t-shirts, preschool t-shirts, kindergarten t-shirts, I love school t-shirts, school rocks tees, kindergarten rocks t-shirts, sweatshirts, hoodies & tees, and great back-to-school t-shirts. Celebrate the first 100 days of school with the 100 days of school t-shirts, buttons, & stickers! Fun teacher t-shirts & teacher sweatshirts, and great holiday gifts for teachers!



Click on your favorite design to see it featured on our large variety of products!

AB/CD
This design is for all you students getting ready to go back to school!


I Am the Teacher
"I will not yell in class, I will not throw things, I will tease the other kids, I Am the Teacher!" Fun Design on t-shirts, mugs, bags, mouse pads and more.


Teacher Encouragement
"Nine Tenths of EDUCATION is ENCOURAGEMENT! Teacher's will know how true this quote is and will love seeing it on t-shirts, hoodies, sweatshirts, gifts and more. More colors inside this store.


If a child can't learn Store
"If a child can't learn the way we teach, maybe we should teach theway they learn." This inspirational teacher's design is shown in many colors on t-shirts, sweatshirts, hoodies, mugs, and gifts.


Teacher's Inspire Quote Store
"It is up to the Teacher to INSPIRE Students beyond what they think is possible! This is a great quote for Teachers designed on bags, t-shirts, mugs, sweatshirts, hoodies and more.
powered by CafePress & cpshop