* * * SPECIAL OFFER * * *

Find out about the latest news & promotions!
» Fun T-shirts Blog


Browse our shops at Zazzle for more great products!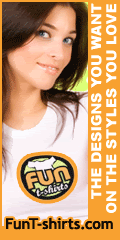 Halloween t-shirts | Halloween shirts
Get ready for Halloween with funny halloween t-shirts, scary Halloween t-shirts, Halloween costume t-shirts, and even anti-Halloween t-shirts! We have cute Halloween tees, kids Halloween shirts, Baby's First Halloween onesies & tees, Halloween sweatshirts, hoodies, and more great Halloween apparel. Don't forget your Halloween buttons, and reusable canvas trick-or-treat bags!


Click on your favorite design to see it featured on our large variety of products!
powered by CafePress & cpshop