* * * SPECIAL OFFER * * *

Find out about the latest news & promotions!
» Fun T-shirts Blog


Browse our shops at Zazzle for more great products!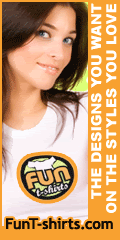 Easter t-shirts | Easter tees
Easter t-shirts, funny Easter t-shirts, Baby's first Easter onesies & tees, cute Easter t-shirts for kids, and great Easter gifts! We have funny Easter bunnies, chocolate bunnies, jelly beans, painted Easter eggs, and more fun designs to celebrate Easter in style.


Click on your favorite design to see it featured on our large variety of products!

Jelly Beans
Smiley jelly beans t-shirts, gifts and Easter decor.


Easter Angel Bunny
Bright smiles and a little bit of Heaven make Easter a hoppy time of year! This adorable Easter Bunny angel carries with her lovely lil' daisies and a big spring grin.


The Day After Easter
Share in spreading the message, time to RELAX with this silly fun doodle. The Day After Easter is all about that post holiday napping! The Easter Bunny has finished his rounds; eggs have been passed,
powered by CafePress & cpshop