* * * SPECIAL OFFER * * *

Find out about the latest news & promotions!
» Fun T-shirts Blog


Browse our shops at Zazzle for more great products!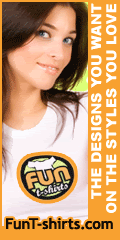 Dragon T-shirts | Dragon Gifts
Dragon t-shirts, dragon tees & onesies, dragon magnets, stickers & gifts. Cool dragon designs, funny dragons, cute dragons, "I love dragons", and "got dragon?" t-shirts & gifts. Huge selection of dragon lover gifts!



Click on your favorite design to see it featured on our large variety of products!

Celtic Dragon
Celtic Dragon design on t-shirts, sweatshirts, other apparel, mugs & gifts.


Coral Dragon
a magical fantasy dragon. She appears to be resting, but beware she knows your there. This delightfully detailed dragon art will please adults and children alike.


Dragon Magic Collection
Delightful blue dragon with rainbow wings. A glowing magic orb is clutched in its' hands. This richly detailed fantasy art would appeal to all who love dragons.


Dragon Buddy Collection
A cute little dragon in cheerful colors. This fellow has richly detailed lavender and pink wings. An adorable fantasy dragon design and sure to bring a little magic into a fantasy lovers life.
powered by CafePress & cpshop