* * * SPECIAL OFFER * * *

Find out about the latest news & promotions!
» Fun T-shirts Blog


Browse our shops at Zazzle for more great products!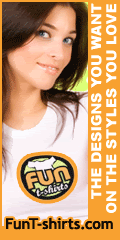 Cool Graphic T-shirts | Graphic Tees
Cool graphic t-shirts, cool graphic tees, psychedelic tees, psychedelic t-shirts & gifts, funky designs, fun 3D graphic t-shirts, colorful kalaidescope t-shirts, onesies, kids tees, magnets, & gifts. Bursting through chest designs, burster t-shirts, bursting t-shirts & gifts, belly burster maternity tees.



Click on your favorite design to see it featured on our large variety of products!
powered by CafePress & cpshop