* * * SPECIAL OFFER * * *

Find out about the latest news & promotions!
» Fun T-shirts Blog


Browse our shops at Zazzle for more great products!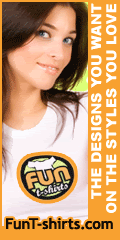 Girls t-shirts | Tees for Girls
Girls t-shirts, onesies & gifts, girl power t-shirts, funny quotes for girls, inspirational quotes and positive attitude messages just for girls t-shirts & gifts. Smart girls rock t-shirts, girls rule t-shirts, onesies & gifts, super girl tees, "girls can't what?" t-shirts & gifts, with "girls can't what" occupations & hobbies for girls. "Diamonds are a girl's best friend" t-shirts, baseball shirts & tees, and more fun sayings just for girls. Princess tees, little diva tees, cute chick t-shirts, & more!



Click on your favorite design to see it featured on our large variety of products!

Every Princess
Every Princess Needs a Palace and a Unicorn - Girls design with princess, castle, unicorn and frog!


Smart capable girl empowerment
Girl power! Empower your daughters with this great t-shirt for strong young women. I am not a diva, I am not a brat, I am not a princess, I am a smart, capable girl, get used to it.


Best Jackpot Funny T-Shirt
CLICK ABOVE TO VIEW OUR I'm the Best Jackpot Ever T-Shirt design available on bibs, Bodysuit & tees in baby, toddler & kids sizes


Cowgirl and Coyote
Cute lil cowgirl with howling coyote and text "Cowgirl" done in red bandana style.
powered by CafePress & cpshop