* * * SPECIAL OFFER * * *

Find out about the latest news & promotions!
» Fun T-shirts Blog


Browse our shops at Zazzle for more great products!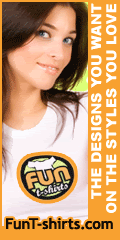 Girls t-shirts | Tees for Girls
Girls t-shirts, onesies & gifts, girl power t-shirts, funny quotes for girls, inspirational quotes and positive attitude messages just for girls t-shirts & gifts. Smart girls rock t-shirts, girls rule t-shirts, onesies & gifts, super girl tees, "girls can't what?" t-shirts & gifts, with "girls can't what" occupations & hobbies for girls. "Diamonds are a girl's best friend" t-shirts, baseball shirts & tees, and more fun sayings just for girls. Princess tees, little diva tees, cute chick t-shirts, & more!



Click on your favorite design to see it featured on our large variety of products!

Every Princess
Every Princess Needs a Palace and a Unicorn - Girls design with princess, castle, unicorn and frog!


Cowgirl and Coyote
Cute lil cowgirl with howling coyote and text "Cowgirl" done in red bandana style.


Girls Rock
Girls rock shirts, clothes, apparel and gifts. Cool rock star buttons, stickers, clothing, sweatshirts and hats for rockin gals. Hip girl rock gear for kids and babies. Rock-n-Roll gifts and clothing.
powered by CafePress & cpshop